Hydronic / Radiant Floor Heating
G1 Distribution import and wholesale a full range of material for Hydronic (liquid) heating systems across Southern Africa. Hydronic heating systems are the most popular and cost-effective radiant heating systems one can invest in. Hydronic radiant floor systems pump heated water from a source through tubing laid in a pattern under the floor.
G1 Distribution specialize in Pex pipe. We offer a one stop shop for pex material. Hydro / underfloor systems mostly use EVOH Pex pipe, G1 Distribution offer EVOH pex pipe for these systems.
Hydronic is the way to go.
The pipe, fittings and materials that G1 offer to this industry uses low-temperature water to heat the floor, objects, and people, and the heat can be adjusted from one room to another.
PEX radiant heating and cooling systems can reduce energy consumption by up to 40% overall. Delivering huge economic and performance benefits. PEX is also ideal for numerous other applications. Some of these include municipal water service, hot and cold water plumbing, snow and ice -melting systems, and residential fire sprinkler systems.
Our Hydro / underfloor manifold systems come in a box. This picture is an example what to expect in our Hydro / underfloor heating manifold box.
The actuator is supplied as a separate part that you can purchase from us.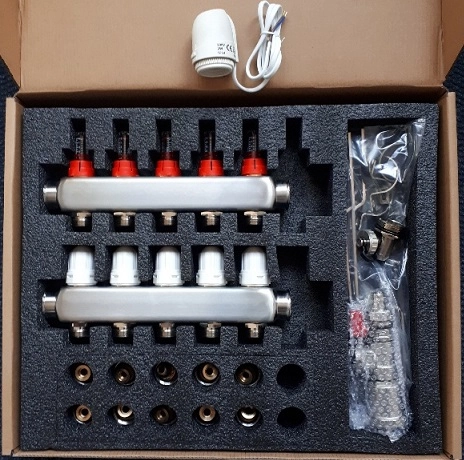 Our complete hydro / underfloor manifold system that you will receive from us is per example in the following picture.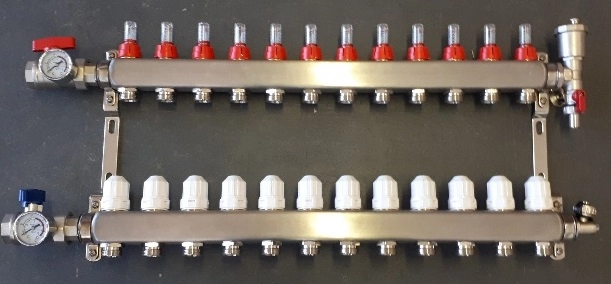 The EVOH pipe for Hydro / underfloor heating is also available from us. The EVOH pipe come in a 1216 Pex pipe size. The rolls are in lengths of 240 meters.
The pex pipe fittings are also available from G1 Distribution.
The following picture indicate what to expect from the EVOH Hydro / underfloor heating Pex pipe, in the red colour.
The white pipe is our typical Pex-B AL Pex pipe used for water, chilled water and variuos other applications in different industries.