PEX radiant heating and cooling systems can reduce energy consumption by up to 40% overall. Delivering huge economic and performance benefits. PEX is also ideal for numerous other applications. Some of these include municipal water service, hot and cold water plumbing, snow and ice -melting systems, and residential fire sprinkler systems.
G1 Distribution PEX pipe is magical. For the most part, your install will be as an electrician would run an electric cable, start at a circuit-breaker panel to a wall outlet. Snake the PEX pipe through floors, roofs and walls from a manifold if you wish or adaptor. End the tubing at you're the fixture. There are no joints at all that can leak between the two points. Quick fast en easy.
Our 16 and 20 mm crimper tool for pex pipe , with collapsable arms. This crimper works like a dream and every guy useing pex pipe should have one of these.
Only ar R 1 350.00 ex vat this a bargain.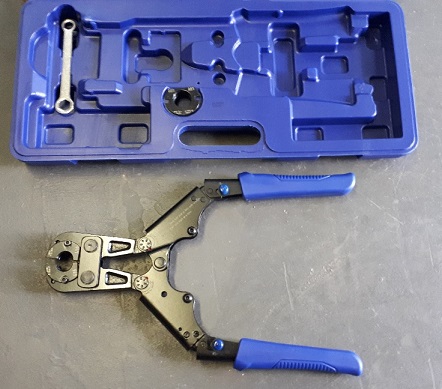 MULTILAYER PEX PIPE:
PEX Pipe was invented in 1968. Pex pipe was used throughout Europe for water distribution systems. In mid 1980" Pex pipe was introduced in North America for the use of residential radiant floor heating systems.
By the mid-1990s, Pex pipe was being used for residential potable ( drinking ) plumbing. During the early 2000s, Pex Pipe was used for fire sprinklers for a "multipurpose" system.
Commercial projects began using PEX in the 1990s for radiant heating (and eventually radiant cooling) applications. Recently the use of Pex Pipe increase in using PEX pipe for domestic hot water, as well as hydronic heating and chilled-water applications.
Both residential and commercial industries see the same benefits of PEX Pipe, namely:
Its flexibility and long coil lengths, dramatically reducing the need for fittings.
Its high durability, corrosion resistance and freeze resistance for greater longevity.
Its cost-effectiveness compared to materials like copper.
G1 Distribution is now fast becoming a preferred supplier of Pex Al Pex pipe in Southern Africa. Our Pex Al Pex pipe is manufactured according to the SANS/ISO 2001 - AENOR standard , the ANSI standard , Australian Watermark, ISO 9000. The pex pipe we supply can with stand 98 degrees of hot water at a high pressure rate. Our pricing model for pex al pex pipe is quite competitive.
G1 Distribution offers PEX AL PEX pipe with long periods of warranty.
We also stock a full range of pex pipe tools, crimpers , cutters , reamers etc. All pex tools for a full installtion.
The PEX al PEX pipe we offer carries the ANOR certification including multiple International production certifications.
G1 offers Pex Al Pex pipe in multiple sizes. To assist the plumbing and gas industries G1 offers now to cut pipe to length. We at G1 understand the tremendous pressure the economy is under. Thus we are helping in a small way to offer Pex Pipe to the gas and plumbing industry by cutting to length.
PEX is the acronym for Crosslinked Polyethylene.
Crosslinked Polyethylene is a polyethylene material which has undergone a change in molecular structure using a chemical or a physical process whereby the polymer chains are chemically linked. Crosslinking of polyethylene into PEX for pipes results in improved properties such as elevated temperature strength and performance, chemical resistance, and resistance to slow crack growth.
PEX pipe is static, meaning its properties remain constant over the course of its lifetime. It will never pit, scale, or corrode, eliminating the need to oversize. This also means that once PEX is designed and sized, it will continue to function in the same manner moving forward.
Optimizing a PEX pipe system can yield a number of cost-saving benefits, including smaller average pipe diameter, which translates to smaller valves, transition fittings, and hangers, less insulation, and lower labor costs.
The Pex Al Pex pipe G1 Distribution offers to the market in Southern Africa have their aluminum layer butt welded ensuring the pipe has a greater resistance to pressure and stresses generated when the pipes are installed.
The Pex pipe also known as composite pipe for water are rated to handle up to 95 Degrees of hot water.
Pex al Pex for water we have all different sizes available. We also have quite a list of available fittings for your reticulation needs.
G1 Distribution offers a wide variety of PEX fittings to fit 16 mm, 20 mm, 25 mm and 32 mm Pex pipe sizes.
PEX piping performs in ways that provide superior reliability, durability, and safety.
Ease of Installation – PEX pipe uses mechanical connections eliminating the need for
solders, flames, and chemicals. Its flexible nature allows it to bend around obstructions. Use
of manifolds can speed installation and improve performance.
Corrosion Resistance – PEX piping will not pit or stress corrode.
Scaling Resistance – PEX pipe's smooth interior walls and chemical properties make it resistant to mineral build-up.
Cost Effectiveness – PEX plumbing systems are less labor intensive and can optimize system performance.
Availability of Pipe Sizes – PEX piping is available in a wide range of diameters.
Energy Efficiency – PEX piping minimizes heat transmission through the pipe wall.
Resistance to Freeze Damage – Under most circumstances, water in the pipe can be frozen and thawed without damaging the pipe.
Water Conservation – Well designed PEX plumbing systems can reduce the wait time for
hot water to reach the fixture.
Environmentally Sound – PEX is an inert material and does not contain volatile organic compounds (VOCs).
These Pex pipe fittings fit water and gas pipe for reticulation networks.
Pex Al Pex is quite easy to use and offers a great option for developments and the needs plumbers have with reticulation requirements.
G1 Gas now offers an outdoor PEX pipe that will have multiple uses from one pipe.
The pipe will be UV activated. This means it will have an outside UV protection layer.
The same pipe will have a high pressure operating rating according to Australian and New Zealand standards including EN. 10 Bar for hot water and 18 Bar for all other applications.
The same pipe will also be able to handle hot water up to 98 Degrees Celsius.
PEX pipe is a polymeric material formed by the chemical joining of individual polyethylene molecules in a process called crosslinking.
Crosslinking alters the performance of the original polyethylene polymer improving several key properties.
The primary reason for crosslinking polyethylene (PE) is to increase the material's elevated temperature performance under load.
In addition, crosslinking substantially improves the pipe's environmental stress crack resistance (ESCR), resistance to slow crack growth, chemical resistance, toughness and abrasion resistance.
PEX pipe is corrosion resistant (corrosion is not possible with PEX) to both soils and water.
No build-up of minerals inside the pipe which could reduce flow, high velocities are tolerated by PEX pipes without erosion corrosion.
PEX is a Green Solution:
Lower cost to the environment for production ; No mining operations for the ore ; Low energy cost to produce PE and PEX compared with copper ; Smooth wall, excellent flow characteristics reduces pumping costs ; Proven long life and durability provides value ; Light weight of PEX reduces transportation costs ; Flexibility can dampen water hammer, reducing pressure spikes ; Protects health and safety ; PEX pipe does not add minerals to drinking water.
You as the installer will also be able to use this pipe for compressed air and air-conditioning piping.
Natural gas and LPG gas could be carried in this pipe as a high pressure solution as a first stage pipe.
PEX-AL-PEX is the first choice for a solar collector application.
PEX is a high-temperature flexible plastic pressure pipe. In the last 40 years it has been used extremely successfully in the European and global markets.
Pex Al Pex has gone through extensive testing for durability and material performance testing and time inspections and graduated with absolutely perfect scores.
The architectural design of PEX is so favorable that PEX pipe is listed for use in fire sprinkler systems as defined in NFPA standard 13D. This makes Pex pipe multiple times less expensive not only on product value but also in cutting down in labor costs saving loads of installation hours.
Pex al Pex is easy to bend and can be used more easily in tight turns and one of the major advantages is that Pex al Pex pipe does not have any spring back.
The working burst pressure is also quite high and the added UV also helps with solar directly in the sun.
It has a higher working and burst pressure than ordinary PEX.
The calculated burst pressure is 11 Bar at a heat of 93 Degrees Celsius
Thermal conductivity is much better than other materials.
G1 Gas offers a very competitive rate on Pex pipe. We also run special pricing on some Pex fittings from time to time. Pex pipe is also very competitive against copper pipe.
G1 Gas sends PEX pipe all over Gauteng and the rest of the South African provinces. G1 Distribution, a company that distributes PEX gas pipe and water Pex from Centurion, into the rest of South Africa, Mozambique, Zimbabwe and Namibia.
Pex pipe is also known as multilayer composite pipe to the industry.
The G1 Gas pipe is manufactured from a high grade Polymer effectively bonded in the inside and the outside of an aluminum core using a melt adhesive method. This aluminum layer is fully protected against the intrusion of gas and oxygen. This is why this pipe has a long life and does not degrade due to rust and other process attacking this type of pipe.
G1 Gas offers very competitive pricing to the market. We try to support the industry by offering good pricing for our materials. We also tend to run specials on some of our items especially on our Gas Hobs.
G1 Gas is also a company that is forward thinking. We create and design special fittings; gas and water; to suite the installers to ease the installations.
Brass parts are also part of our offering with specially designed parts. We offer special parts in the 8mm brass to pex parts.
These parts are quite user friendly when connecting braai places and fire places.
Please contact us when you in need of these pex or brass fittings.
The growing market for multilayer pex pipe is growing fast and G1 Distribution also known to the market as G1 Gas, is playing a large part in growing this market.
Pex pipe can also be used in the air compressed market.
PEX has become a contender for use in residential water and gas reticulation because of its flexibility. It can bend into a wide-radius turn if space permits, or accommodate turns by using elbow joints. In addition, it can handle short-radius turns, sometimes supported with a metal brace; in contrast, PVC, CPVC and copper all require elbow joints.
G1 Gas offer pex pipe also known as multilayer pipe or composite pipe to the Southern African market in different sizes. The sizes range from 16 , 20, 25 and 32 mm. This pipe comes in rolls and is delivered throughout all provinces.
G1 Gas is the only distributor to offer 100 meter rolls. In offering the 100 meter rolls helps the installer with cash flow and handling. G1 Gas sends these rolls over all of South Africa and across the border to Mozambique, Zimbabwe, Namibia etc.
You will enjoy working with Pex pipe. You will benefit from the installation speed you will find from working with Pex, much faster than copper. Using the pipe cutter you can cleanly cut through a Pex pipe in less than 3 seconds.
G1 Gas offers all these different tools to use with Pex pipe.
The time it takes to work with copper is much longer than using Pex. The process using copper is so more time consuming.
The material that Pex is made of, does have a memory. You can bend, stretch and also enlarge PEX pipe, but the nature of the pipe is to go back to the original size in a few seconds.
Using the expanding tool, also known as the reamer, you can expand the pipe by stretching it. After this effortless process you can now insert your fitting or manifold.
Take the crimp tool and crimp the fitting and see the effortless process, much faster than copper.
As you know time is money.
G1 Gas is also known in the market to have the most innovative pex parts on the market for the gas market. We listen to the market then develop the parts for that requirement.
All of these special pex fittings are from requests out of the market.
We generally offer most gas fittings used in South Africa. These fittings could be for Pex pipe or it could be used for copper pipes of 15 mm or 22 mm copper.
We ship fittings all over South Africa using the cost effective POSTNet to POSTNet network.
It is not to say that G1 Gas is based in Pretoria one must keep on paying for expensive local supplied fittings. Use our POSTNet network and also become part of the cost-effective network.
G1 offers a Pex pipe flexible light weight, corrosion and abrasion resistant sleeve for extra protection when pex is used in some sunlight.
The chemical resistance of this sleeve is excellent being highly resistant to most acids and alkalis.
Protection of Pex pipe from direct sunlight will prolong your investment in your reticulation of water, air of gasses.
Health and your way…

COPPER SOLDERING:

Vapor produced as the copper is melted during the soldering process is much more harmful. Its molecular size is smaller and lighter than dust. While dust clogs the pores and lungs, the vapor penetrates both, causing greater damage. Dust and vapors can cause conditions from dermatitis to cumulative lung damage.

Arsenic trioxide is a part of copper, and it is considered toxic. Skin lesions and nasal septum perforations along with dermatological troubles are just the start of troubles. It can affect the gastrointestinal and central nervous systems. It also increases the incidence of lung and lymphatic cancers over prolonged periods. Although arsenic trioxide is not technically copper, you ingest arsenic trioxide along with the copper.