G1 Distribution offer gas regulators specifically to supply PALOMA, RENNIA, BOSCH and other Gas geysers. These geysers like PALOMA, RENNIA, BOSCH and other bigger gas geysers need a larger volume of gas supply. PALOMA, RENNIA, BOSCH and other gas geysers forms part of these gas appliances that needs a larger volume of gas to function correctly and operate as per manual. Our regulators minimize the risk of not have enough gas supply to geysers like PALOMA, RENNIA, BOSCH and others.
Our selection of gas regulators will support gas supply to geysers like PALOMA, RENNIA, BOSCH and others.
We offer from 5 kg/h , 10 kg/h , 12 kg/h , 20 kg/h 30 kg/h , 70 kg/h , 200 kg/h as per example
G1 Distribution offer the Novacomet regulators that can be used in specific installations with Natural Gas, air, nitrogen and other non aggressive gasses like helium, argon etc. All noble gasses can be used with Clesse/Novacomet regulators.
G1 Gas based in Centurion, South Africa, now offers the Top Brand in regulators country wide including the Novacomet range of regulators.
In stock we now have Auto Change over regulators - 10.5 Kg/h and also 20 Kg/h. These auto change over regulators are the best in the globe.
G1 Gas does use courier services to send these regulators across the provinces in South Africa.
We also stock 150 Kg/h regulators. These regulators are mostly used inthe Motor industry. 150 kg/h regulators are made from the highest quality.
G1 Gas offer the Novacommet high pressure regulator WITH a gauge that immediately helps and assists in setting the correct pressure. This simplifies the installation and cut down on installation time.
NOVACOMET / CLESSE Regulators
BP1803 Specification sheet 4 Kg/h First stage
This red regulator from Clesse/ Novacomet is one of the most asked for regulators in South Africa. G1 Distributors distributes a large number of this regulator all over South Africa to clients asking specifically for a 4 Kg/h regulator. This regulator can deliver up to 5 Kg/h.
Inlet pressure between 0.8 – 7 bar , outlet pressure is set to 2.8 kPa.
Flow rate between 4 kg/h and 5 kg/h.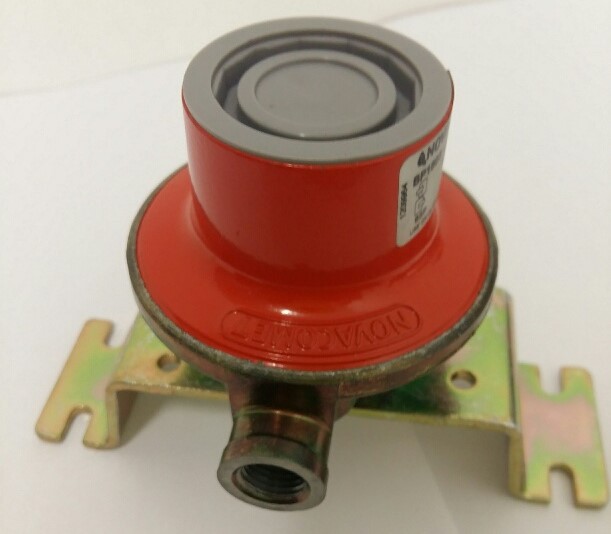 APZ120R High pressure regulator upto 20 Kg/h - first stage.
What makes this high pressure regulator such a great product is the fact that this high pressure regulator is equipped with a manometer. This is a major advantage for any installer.
The pressure gauge or manometer is fitted to the high pressure regulator. The gauge reads pressures from 0 to 4 Bar and in psi.
The gauge or manometer is manufactured according to the EN 837.1 standard.
Flow rate is close to 20 kg/h and outlet pressure can go up to 3 Bar.
G1 Distribution can send this regulator all over Southern Africa from Gauteng.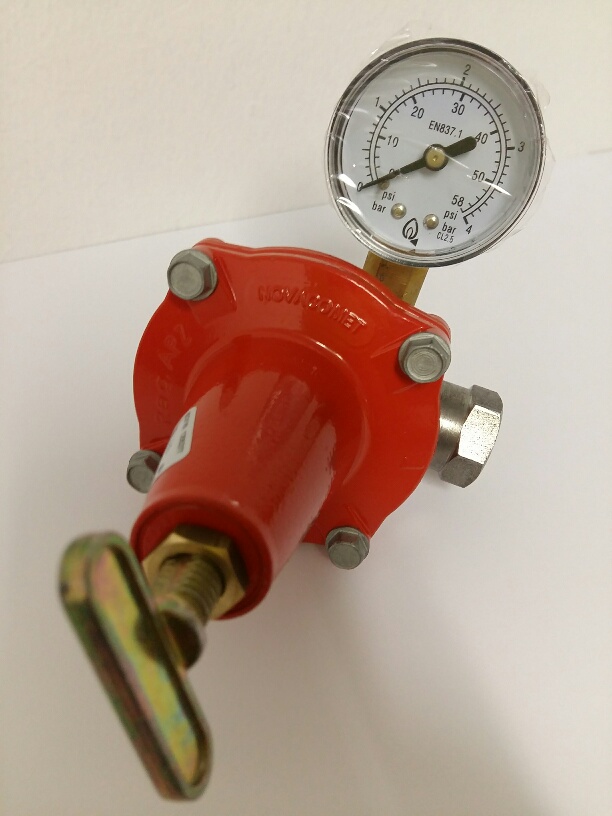 APS2000 High pressure regulator upto 150 Kg/h - first stage.
This 150 kg/h regulator from Novacomet is typical for baking ovens applications, car industry and others.
The motor industry uses this 150 kg/h regulator for specific gas delivery for the ultimate high requirements.
1" female inlet and one inch outlet female connections make this a 150Kg/h regulator to fit easily onto the current pipe reticulation.
Inlet pressure from 0.5 bar up to 16 Bar delivering a flow rate of 150 kg/h.
G1 Distribution sends this regulator all over South Africa.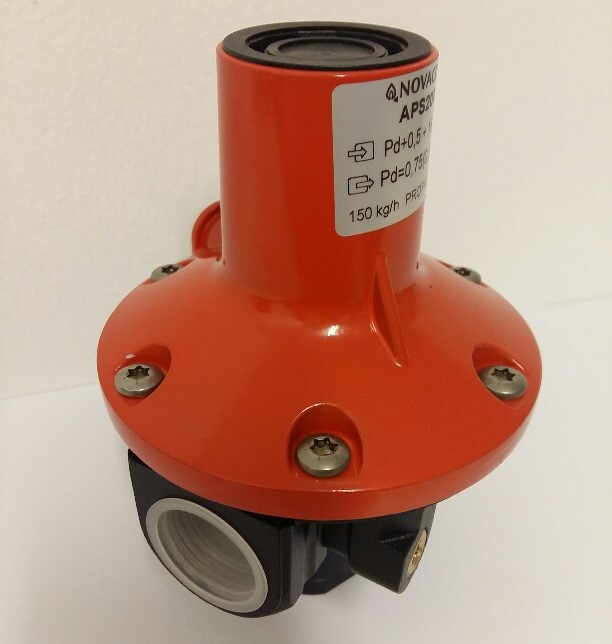 APS2303 regulator 30 Kg/h.
The absolute brilliant 30 kg/h adjustable regulator is one of the world's most perfect regulators. Direct competition to the Rego 4403. With this 30 kg/h regulator you can adjust the flow of gas to you specific needs for flame size, heat and flow.
G1 Distribution based in Gauteng South Africa has two types of regulators you can choose from. The amount of flow rate you need will assist you in your choice.
¾" inlet and outlet or ½"outlet controls your flow. You can choose between 27-36 mbar on the one regulator or your second regulator choice is between 25-45 mbar.
Inlet pressure is from 0.5 – 7 Bar
This makes the Novacomet BP2303 regulator absolute superior in the market and for the specific application.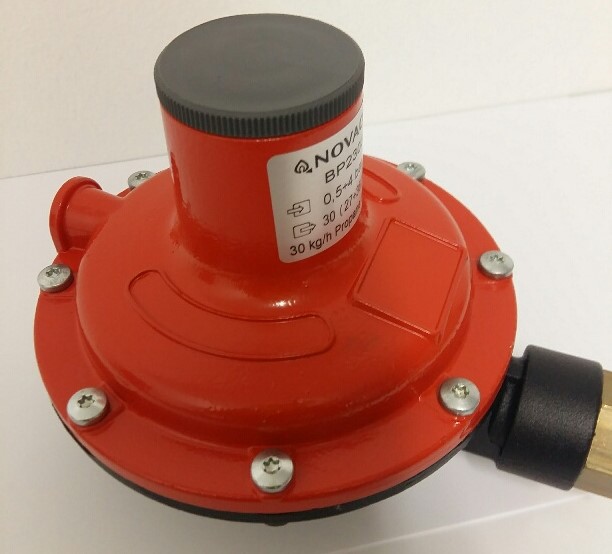 Auto change over regulator in 10 Kg/hr and also in 20 Kg/hr.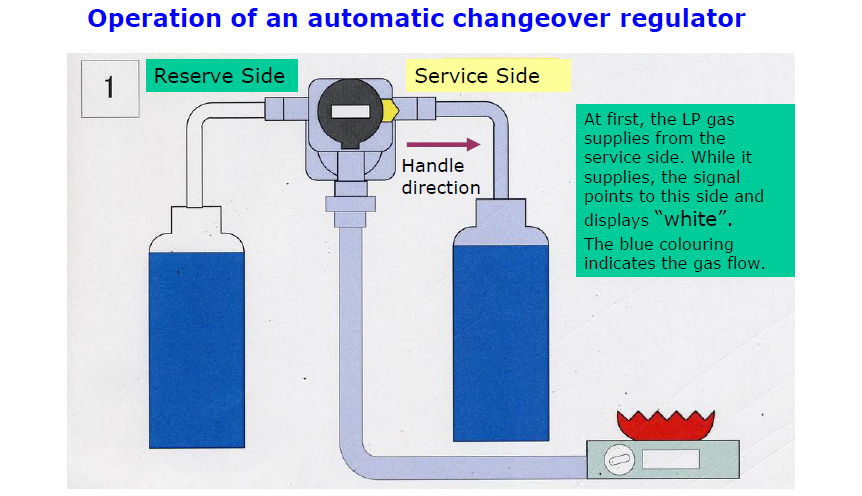 When first installed select which cylinder/s you want to start to be the service.
Cylinders from one group "Service" are used in preference to the other "Reserve" cylinder group.
When the "Service" group is empty an indicator shows red showing that the "Service" group of cylinder are empty or near to being empty. At this point the Clesse changeover automatically starts to draw gas from the "Reserve" group ensuring uninterrupted gas supply to the user.
Then when Indicator shows red continuously it's time to call your gas supplier.
Then the following day an order of gas can be made whilst the "reserve" group keeps the supply running. When the new cylinders have been fitted the driver will normally switch the Clesse control making these the reserve whilst the existing cylinders run empty.
When the empty cylinder is changed, the person who exchanges the cylinder will then turn the Clesse indicator knob to the existing part-used cylinder ready to indicate when it becomes empty – this then becomes the "Service"